Amàre Hotels, the adults-only designer hotel brand, has launched an initiative to help guests from its Amàre Marbella and Amàre Ibiza hotels overcome post-holiday syndrome: you can save the scent of summer in a bottle, and infuse your home (and car) with its magic.
15 September 2022. Going back to work is hard, especially with the upcoming arrival of autumn dulling the bright colours of summer, but above all if you've spent your holidays in as iconic a place – full of design, atmosphere and cosmopolitan cool – as Amàre Beach Hotel Marbella, the best adults-only hotel in the centre of Marbella's Old Town, or Amàre Beach Hotel Ibiza, considered 'the place to be' in Ibiza this summer.
To help its loyal clientele avoid falling into this post-holiday syndrome, the ever-innovative Amàre Hotels brand, which covers both hotels, has launched a fragrant new initiative – and it's a real hit with guests of the two adults-only establishments. You can now buy the summer scent used to perfume the hotels' various communal areas, including the lobbies and receptions.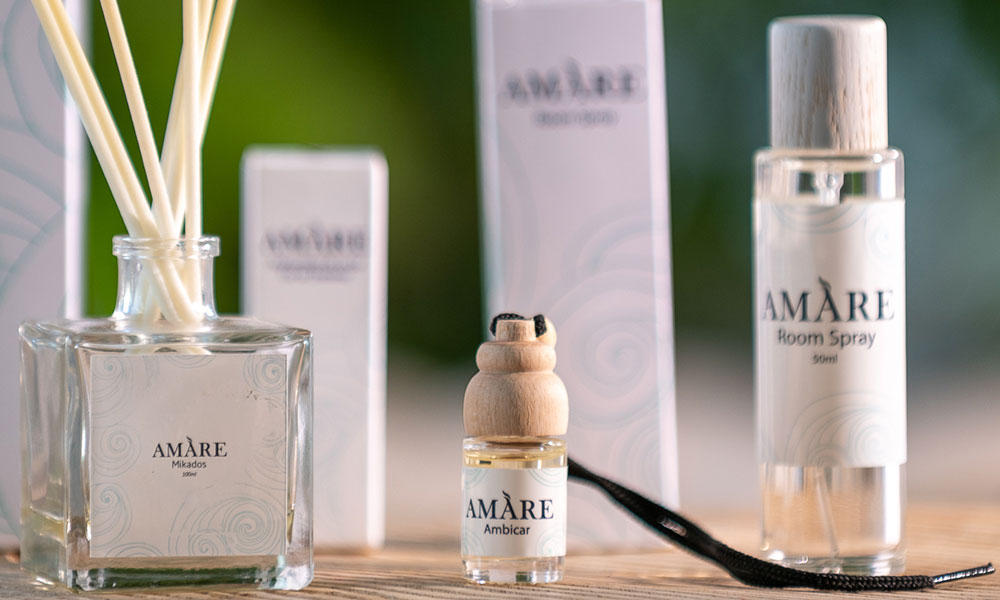 It's called the "Amarte" scent, and it's made by Aromas de Ibiza for the Amàre Hotels brand using a special selection of natural essential oils, whose properties work wonders on both people's physical and mental well-being. This elixir of happiness includes ingredients such as blackcurrant, known for its stimulating effect; geranium, perfect for revitalising and combating exhaustion, a typical side-effect of seasonal change; and musk, used to alleviate anxiety.
It also features cedar, which inspires patience and compassion; patchouli, which brings peace, balance and a characteristic earthiness that connects us with the forces of nature; and vanilla, an excellent relaxant and antidepressant. Its floral touch, a fragrance imbued with summer, comes from iris, the flower of happiness, whose pure and intense freshness will brighten up your autumn bringing back memories of your summer spent at Amàre Beach Club Marbella.
The "Amarte" scent can be purchased at reception in the Amàre Beach Hotel Marbella and Amàre Beach Hotel Ibiza hotels in 3 different formats: as a mikado air freshener (21.95 euros), as a room spray (9.95 euros), and as a car air freshener (5.95 euros).
Of course, another way to curb that summer nostalgia is to simply escape back to the south or Pityusic Island for a weekend away in autumn and enjoy our iconic seafront hotels once more.